Trips in the Emirates and Oman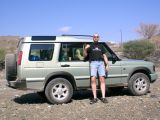 Look! My car! Exactly what you need for this kind of little adventures. (It's a 2004 Land Rover Discovery with a 4l V8 engine - absolutely unaffordable in Europe, but not so here - so let's enjoy it while we can...)

Recorded GPS tracks of each tour are available for download below, or here. The tours were done between October 2006 and June 2008.
Tours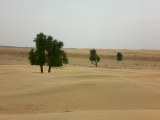 Arabian Ranches

Right behind our home outside of the Arabian Ranches compound there is plain desert. It is a good place to get out for dune driving and sight seeing. (GPS)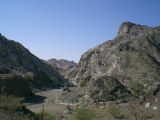 Wadi Ray

The trip to wadi Ray and its pools in the lower mountains of Oman is an easy ride. It winds through an impressive mountain range and ends with a cool bath in the pools. (GPS)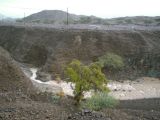 Washed Away

On that day we wanted to verify the warning in the tour book that goes like "If you go into a wadi on a rainy day, you must be crazy and tired of living." The book was right. (GPS)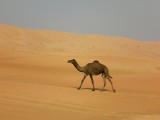 Liwa

Rub Al Khali, the empty quarter south of the Liwa oasis is the biggest sand desert on the planet. An epic route with incredibale sceneries and gigantic dunes. (GPS)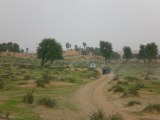 Falaj Al Moalla

A less driven, enjoyable and tranquil sand route to Ras Al Kaimah. The highlight of this trip is a rather unexpected forest of Ghaf trees in a carpet of green. (GPS)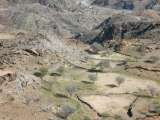 Wadi Sidr

This track took us to the east coast of the UAE: to the emirate Fujairah and the Indian Ocean. We enjoyed some stunning views from the mountains and a bath in the Indian Ocean. (GPS)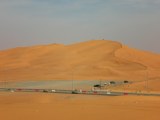 Big Red

This is a solitude larger dune near Dubai and a very popular weekend destination. Go up so you can say "Been there, done that...". Very interesting is a huge sand quarry close by. (GPS)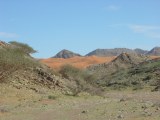 Mahdah

The farewell trip for our friends who had to get back to Germany. This fine route offers a strong contrast between dunes and rocks along the Hajar Mountains, a spectacular combination. (GPS)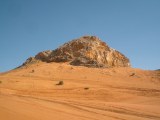 Fossil Rock

It has its name from the many marine fossils found on its flank. I just couln't find any, but never mind. As a solitary rock sticking out of a sea of red sand makes it an interesing destination. (GPS)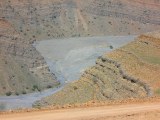 Wadi Bih

An absolute must. Wadi Bih is considered to be the "Grand Canyon" of the region. It is a very dramatic drive, rising from sea level to a spectacular 1000m and ending at the Indian Ocean. (GPS)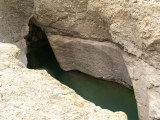 Hatta Pools

A standard destination for many tourists and weekenders, mentioned in every tour guide. Our second attempt to get there, and this time it stayed dry (unlike last time). (GPS)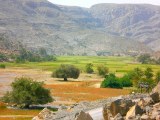 Musandam

A three-day trip to the northern Musandam peninsula on Oman territory. It took us up to nearly 2000m and back to sea level for a magnificent dhow cruise into the stunning fjords. (GPS)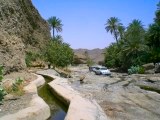 Wadi Asimah

This is a short and rocky track winding through a lovely wadi, featuring an oasis with pools as well as secluded villages and plentiful greenery. A very interesting tour. (GPS)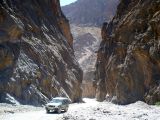 Wadi Sathan

Over the Easter holidays we made a four-day trip into the Western Hajar mountains in northern Oman. The tour combined several wadis, pools, mountain tracks, villages and a historical fort. (GPS)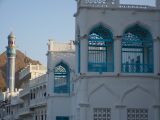 Muscat

The Hajar mountain tour (see above) was concluded in Muscat, the capitol of Oman. We stayed only for one night, but took home great impressions of this beautiful city. (GPS)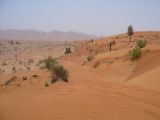 Pink Rock

Our final desert tour in June 2008. This concluded our series of exciting off-road adventures in the desert, the wadis and the mountains. We have seen so much, and we miss it! (GPS)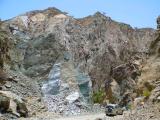 Wadi Tayyibah

On a visit to Dubai in June 2009 we escaped for a night to a resort over in Fujairah. On the way lies this wadi, along the old road from Masafi to Dibba. Short and sweet. (GPS)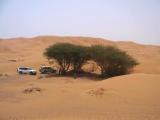 Two Tree Valley

Not far from Big Red is the perfect training ground for your Liwa adventure. We explored it - just for fun - on a hazy morning at 50 degrees Celcius on the last day of our visit. (GPS)