Wadi Sathan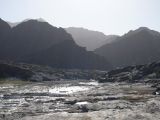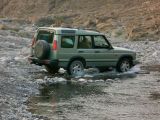 L: At sunset we reached the narrow parts of Wadi Al Abyad.
R: It wasn't so easy to get there.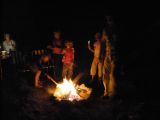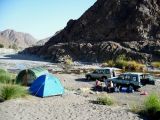 L: This is our Easter fire for 2008.
R: Next morning we inspected our lovely campground.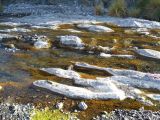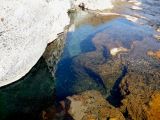 L: It is surrounded by water all year round.
R: Crystal clear, deep and full of thousands of fish.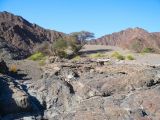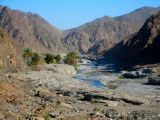 L: The typical Omani rockface, featuring a grey sand dune.
R: Off we go for a walk deeper into Wadi Al Abyad.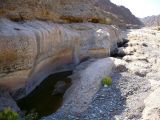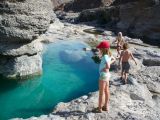 L: Throughout many years the water has polished the stones.
R: The famous blue pools of Wadi Al Abyad, created by dissolved calcite.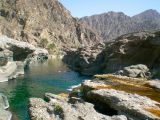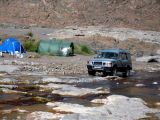 L: Paradise! Deep blue water, palms, sandy shore on one end, waterfalls at the other.
R: Later we went for the main destination: Wadi Sathan.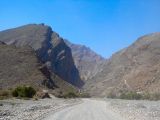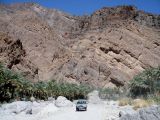 L: The entrance of Wadi Bani Awf, leading into Wadi Sathan.
R: The ride is enjoyable from the first moment.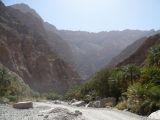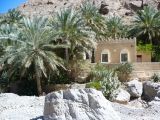 L: The well maintained track into the hazy mountains.
R: An Omani house with palm garden.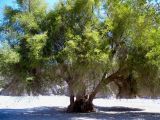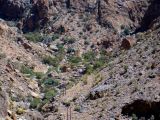 L: Singular trees grow on the wadi floor and invite for a break.
R: Hanging gardens in the middle of the upper rocks.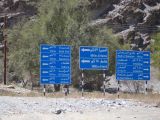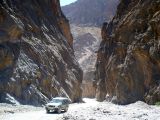 L: Let's take a right turn to Wadi Sathan then.
R: ...which is immediately getting spectacular.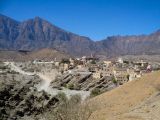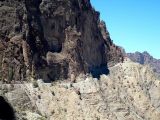 L: Inside the massive bowl of Wadi Sathan we reach Fasah.
R: But we want to go up to 1700m to the village named Yasab.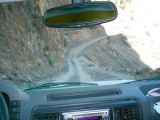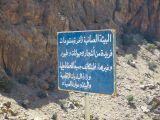 L: Not a ride for sissies.
R: A signpost on the summit, showing Oman's respect for nature:
"Oman's environment is rich with unique entities of trees, animals, birds and others. Letís all together cooperate to keep it. Ministry of regional municipalities, environment and water resources."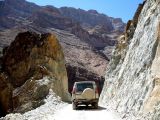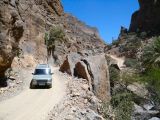 L: Some way down from the summit, we make our way to the village.
R: The track is frequently used by the villagers for their errands.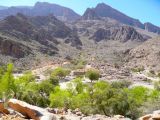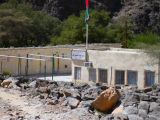 L: The road ends here in the village of Yasab.
R: Remote, but it has its own school, and every student learns English.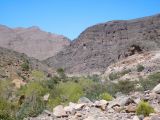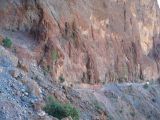 L: Another view onto the ever varying rockfaces and colors of the Omani mountain ranges.
R: On the way back. There is a car on this picture, try to find it!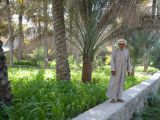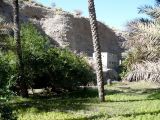 L: A friendly local invited us into his palm plantation.
R: A lovable, very peaceful, quiet place. Something to remember.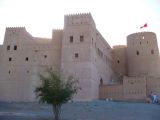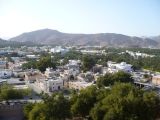 L: A visit to the carefully restored fort of Rustaq.
R: Rustaq is a green city in northern Oman.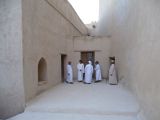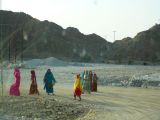 L: A group of locals in their traditional dress.
R: Colorful Omani women, no veils.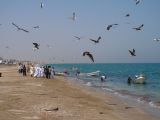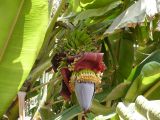 L: We made a break in one of the many fishing villages along the coastline.
R: And we learned how big and colorful a banana bud really is.