Wadi Sidr to Fujairah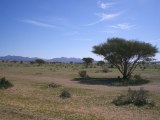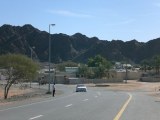 L: On the road again. This is the scenery on highway 18.
R: Entering the village of Ghail, where the off-road part begins.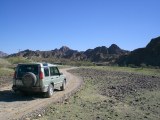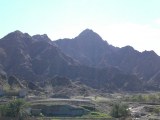 L: Approaching a tranquil village...
R: ...which is well hidden in the mountains.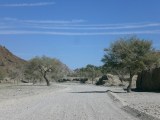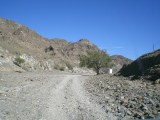 L: Yet the track is easy to drive.
R: But it's getting rougher pretty soon.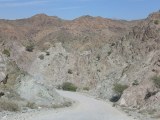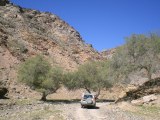 L: On top of a ridge leading down into a valley.
R: Winding through the valley floor...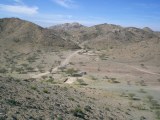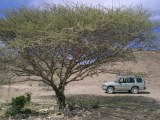 L: ...and up until we reach this higher plain.
R: We make our lunch break to enjoy the view.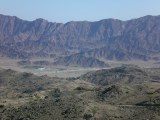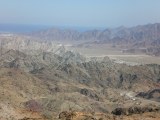 L: And the view is breathtaking.
R: A flat picture is unable to reveal the depth of the scenery.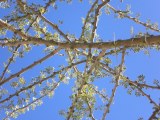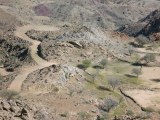 L: Careful, this shrub is armed.
R: On we go down the mountain.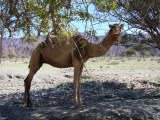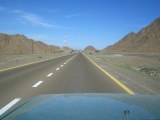 L: Here is the mandatory camel greeting.
R: Back on tarmac towards Dibba.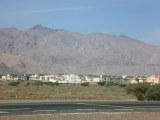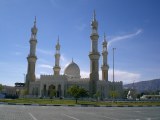 L: Dibba is a coast town backed by mountain, featuring...
R: ...a prominent mosque...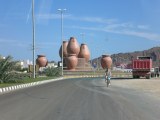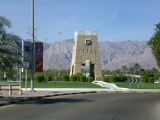 L: ...a teapot roundabout...
R: ...and a fort roundabout.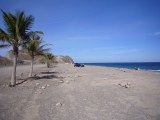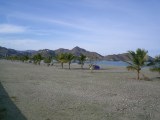 L: Finally we reach the Indian Ocean.
R: The Indian Ocean is warmer than the Arabian Sea.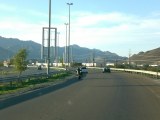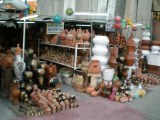 L: The city of Fujairah is nothing special, as it seems.
R: We make a last break at an all-week-round "Friday Market".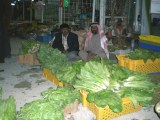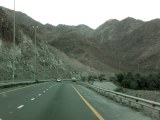 L: Lots of things on sale on the market.
R: The route back to Dubai through Masafi during sunset.