Ann Arbor, Michigan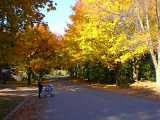 Fall in an old town quarter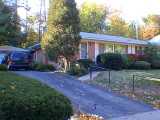 Our litte ranch house in 1998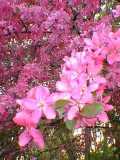 Blooming tree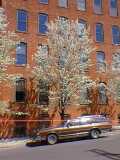 Downtown Ann Arbor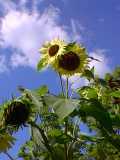 Sunflowers for the birds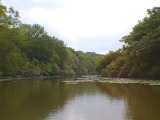 Canoeing on Huron River is very relaxing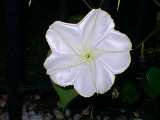 A moonflower flowers for one night only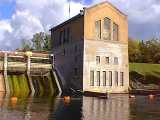 Just some classical industrial architecture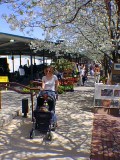 At the Ann Arbor Fruit & Vegetable Market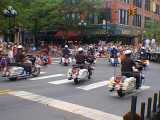 The parade on 4th of July in downtown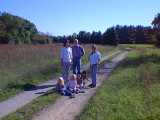 A walk with friends in the Botanical Garden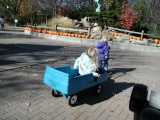 The Detroit Zoo on halloween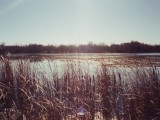 A lake at Pinckney State Park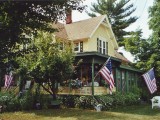 After "9/11" the thing with the banners started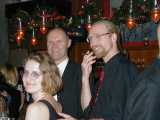 Me and my two superiors at Christmas 2000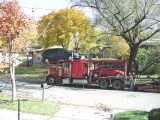 The cars are shipped to Germany. Good bye, Ann Arbor.
Winter Impressions
If you prefer the Florida climate, then don't come to Michigan. We had historical record snowfalls in two out of the three Michigan winters. Once it took me two hours to just shovel my way from the backdoor to the car on the driveway. But we definitely did appreciate the climate: Real summers, real winters, great fall (the indian summer).
Indian Summer
The blaze of color during Indian Summer beats any fall in Germany. Reasons are mainly chilly nights, followed by warm days with little rainfall, and also a greater number of tree species that made it through the last ice age.
Our Home
The little hut was nothing special in a general sense, but it meant a lot to us. I bought the house very spontaneously in 1998 and never regretted it. It was an old 1960's brick ranch, small and a bit run down, but very comfy. We will never forget it.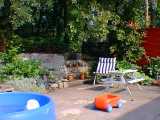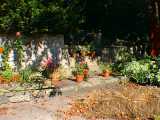 The large patio (backyard). Lots of space for the kids to play.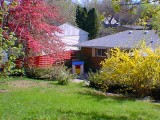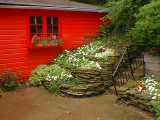 The Upper Meadows (western border of territory)
Old garage with stairs leading to the upper part.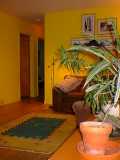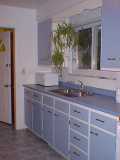 Living room in sunny yellow with hardwood floors.
The kitchen was already there, we just had it painted.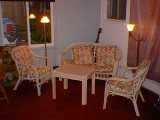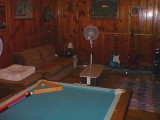 Extension room, built by an idiot.
Basement in tasty "nutty oak", with full-size 70th bar.
Biosphere
There was an incredible wildlife in this part of town, just a few minutes away from downtown. The zoo included racoons, skunks, opossums, squirrels, centipedes, wood bees, fire flies, a snake, a fox. No bears, after all.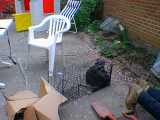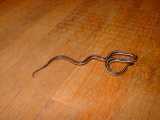 Racoons came to start a family under(!) the house.
The snake was a gift from our cat.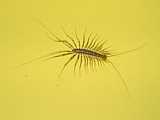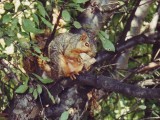 A centipede, a useful animal, when outside the house.
One of a million fox squirrels, obviously a carnivore.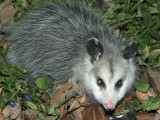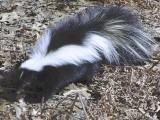 Left is an opossum, a little like a huge rat. Nice ears.
Skunks often hide, but you know when they're here.
Neighborhood
As we learned later, we had our house in a very old part of town. It was quiet there, but with just 15 minutes walking distance to downtown. Many of the houses there were lovely and interesting.